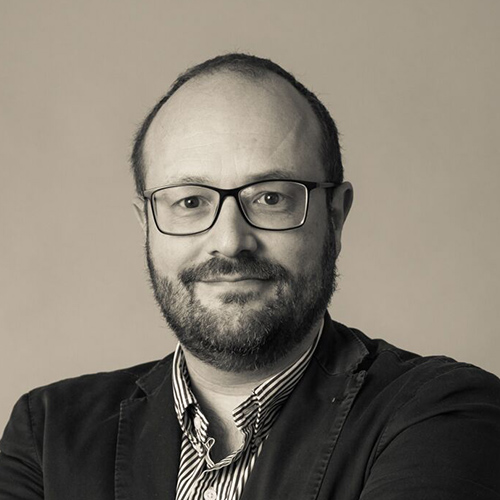 Enrico Tomasi
Head of Engineering
MEng CEng MICE
---
Enrico is a chartered structural engineer with 20 years' postgraduate experience in building design, from structural design/analysis with all the main structural materials, to project engineering and project management.
Working on projects from conception to completion, Enrico is used to managing complex groups of designers and REVIT/CAD technicians.

He brings technical experience in new buildings, refurbishment projects, airport and railway projects, and leads our group of engineers on architecturally challenging projects.
Relevant Qualifications:
Chartered Engineer (equivalent to British Engineering Council Chartered Engineer) under Directive 2005/36/EC
MEng, Civil Engineering (Geotechnologies, 5 years) – University of Bologna (Italy), 2002
Fully computer literate in Structural Analysis Software: (main) MidasGEN 2013 2.1 + ASWD module (Automesh Slab/Wall Design), Autodesk Robot, Tekla TEDDS; SAP2000/ETABS, Scia,
Masterseries, AutoCAD, and Revit Structure 2014
Fluent in Italian and English
Relevant Experience:
Main/Senior/Lead Design Engineer and Project Engineer on many high value projects including:
MSCPs: University of Brighton, Watford, Guildford Park Road in Guildford, Solum in Guildford, Sienna in Basingstoke,
The Waterloo in Cirencester, Ashford & St Peter's Hospital, Royal National Orthopedic Hospital, Dorset County Hospital, Crescent Road Extension in Tunbridge Wells, Cambridge, Meggitt Avionics single storey parking deck in Fareham
Concept Design: SEKISUI Chemical factory, Geleen NL
New Build: Hunters Hill House, Albury, Guildford; Asiago, Vincenza – new hospital; Venice Hospital – new dialysis building; Vincenza University; Genova 'Principe' Railway Station Multi-Storey Car
Park; Torino 'Porta Nuova' Railway Station Multi-Storey Car Park; Venice Outpatient Clinic; Treviso Hospital; Padua Outpatient Clinic; Padua Hospital Outpatient Department
Refurbishment: 56 Leadenhall Street – Nexus Mezzanine and staircase; Oakley Store Covent Garden; London Gatwick Airport – Ceilings; Lifts replacement; Blackpool tram shelters; La Fenice
Fashion Atelier and Costume Shop, Venice; Milan New Underground train station; Treviso Hospital.