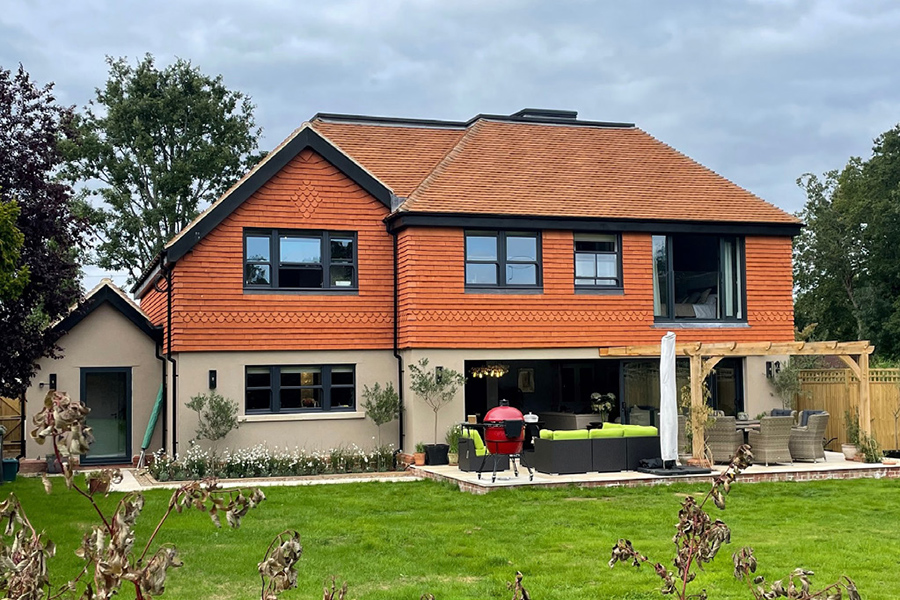 West House, Surrey
Project: To design and assist the client and builder for a two-storey detached residential property.
Contract Value: Confidential
---
Contract Details
Stripe Consulting were involved from the very start on the scheme.
The client wished to adopt insulated concrete walls (instead of traditional brick cavity block construction). The cement bonded wood fibre blocks are laid dry, thereby eliminating the various drawbacks of mortar, and subsequently filled with concrete as well as horizontal/vertical reinforcing rods to create a high load bearing structure. The Isotex blocks bear onto a new 200 mm thick concrete reinforced slab foundation, which in turn bears onto chalk.
Individual simply supported steel beams are located to the roof, these bear onto spine Isotex walls. Timber rafters and flat roof joists span between the Isotex walls and supporting steelwork. Timber loft joists complete the roof structure. The first floor is formed from posi joists. These are parallel chord trusses using stress graded timber chords, plated together. Posi joists offer versatility, span long distances and simplifies installation of services.
More Case Studies